PANDEMIC PICK ME UP PDF 1.1.2022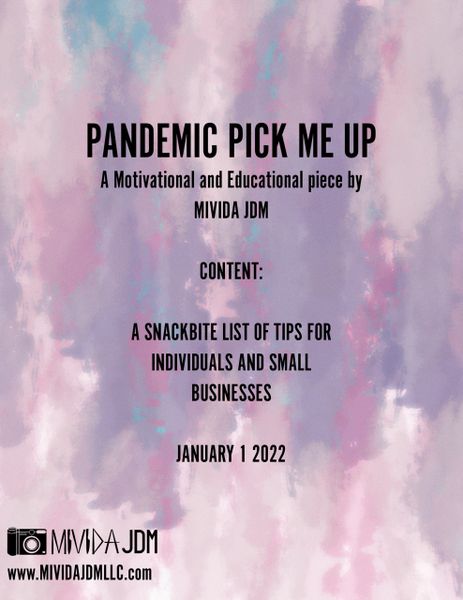 PANDEMIC PICK ME UP PDF 1.1.2022
I WROTE TO MY AUDIENCE TO PROVIDE SOME MOTIVATION AND RESOURCES DURING A DIFFICULT TIME. IF YOU ARE AN INDIVIDUAL OR AN ENTREPRENEUR, THIS SHORT READ WILL PROVIDE SOME BULLET POINTS TO HELP YOU ALONG YOUR JOURNEY REGARDING STARTING A BUSINESS, OR EXPANDING AN EXISTING ONE. THERE IS A BONUS SECTION HIGHLIGHTING INFO FOR THE MUSIC BUSINESS.

UPON MAKING THE PURCHASE ON MY WEBSITE, I WILL FORWARD YOU THIS PDF. 
75% OF THE SALES WILL GO TOWARDS A BUDGET FOR ME TO CONTINUE WORKING WITH MY LOW INCOME / CHARITY SLOTS WHERE I PROVIDE RESOURCES TO THOSE IN NEED OF HELP WITH THEIR CAREER OR ARTIST DEVELOPMENT. WITH THOSE SLOTS I AM DONATING MY TIME, SKILL, INFO AND RESOURCES TO THOSE WHO CANNOT AFFORD TO BOOK ME AT MY RATE. THESE SLOTS ARE MONTHLY AND QUARTERLY AND I COVER THESE EXPENSES OUT MY POCKET.
IF YOU HAVE ANY QUESTIONS FEEL FREE TO REACH ME USING THE CONTACT ME SECTION. 
IF WE HAVE SPOKEN BEFORE YOU MAY HAVE ASKED ME FOR SOME HELP OR MENTORSHIP, I AM ALWAYS HAPPY TO CHECK SUBMISSIONS SENT VIA EMAIL
THIS IS DELIVERED ELECTRONICALLY VIA EMAIL AND IS A NON REFUNDABLE PURCHASE. 
DISCLAIMER:
THIS PDF IS NOT TO BE REPRODUCED OR PLAGIARIZED, ALL WRITINGS IN THIS PDF ARE ENTIRELY OWNED AND RIGHTS ARE RETAINED BY AUTHOR MIVIDA JDM.
REFERENCES MADE HAVE HYPER LINKS AND ARE STATED AS SUCH (WEBSITES MENTIONED)
THANK YOU.