MIVIDA JDM ART ( DAD HAT ) LIMITED EDITION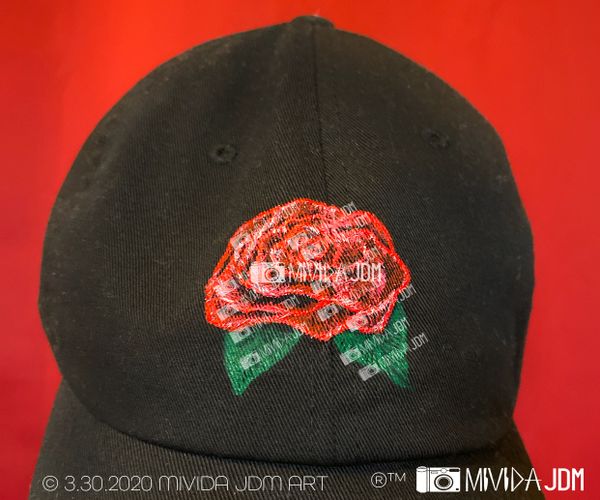 MIVIDA JDM ART ( DAD HAT ) LIMITED EDITION
PRE ORDER YOUR MIVIDA JDM ART HAT TODAY (Consult required)
To view non watermarked Mock UP, you must have a consultation. To book your consultation please email the artist at MIVIDAJDM@iCloud.com
STYLE: DAD HAT 
COLOR: BLACK HAT, DESIGN AT ARTISTS DISCRETION (DISCUSS IN CONSULTATION) ART THAT IS PRE MADE VERSUS CUSTOM ORDERS.
SIZE: UNIVERSAL / ONE SIZE FITS MOST / ALL 
DESIGN NOTE / INQUIRY ADVISORY: I HAVE A COLLECTION OF PRIVATE ART / I AM HAND PAINTING HATS FOR A LIMITED RUN. IMAGES WILL BE LISTED SOON. CUSTOM REQUESTS FOR "SAME HAT" SHOWN WILL BE RESPONDED TO AND APPROVED OR DENIED BASED ON AVAILABILITY OR MAX AMOUNT BEING MADE. CUSTOM REQUESTS TO PAINT ON A HAT HAVE CUSTOM PRICES BASED ON COMPLEXITY, MAKE AN INQUIRY AND THE ARTIST WILL LET YOU KNOW IF IT WILL BE POSSIBLE OR NOT. 
YOUR PURCHASE WILL HELP SUPPORT SMALL BUSINESSES, NON PROFITS, ART THERAPY PROGRAM,  AND PANEL PLANS THAT MIVIDA JDM LLC WILL BE CREATING FOR ALL AGES. 

EXPEDITED SHIPPING & HANDLING IN THE U.S. YOU WILL BE NOTIFIED WHEN YOUR ITEM SHIPS.

IF INTERNATIONAL PLEASE EMAIL ME FIRST, SO THAT I MAY CREATE A SPECIAL INVOICE FOR YOU. 
EMAIL WITH INQUIRIES. (CONTACT SECTION)
*PLEASE BE AWARE ITEM MAY TAKE EXTRA TIME TO SHIP DURING NATIONAL CORONAVIRUS PANDEMIC*
Disclaimer: ALL DESIGNS by MIVIDA JDM are protected under copyright and any attempt to infringe on these original works / intellectual properties will result in legal action and penalties by law.