DECONSTRUCTING TRAUMA SESSIONS AND WORKSHOP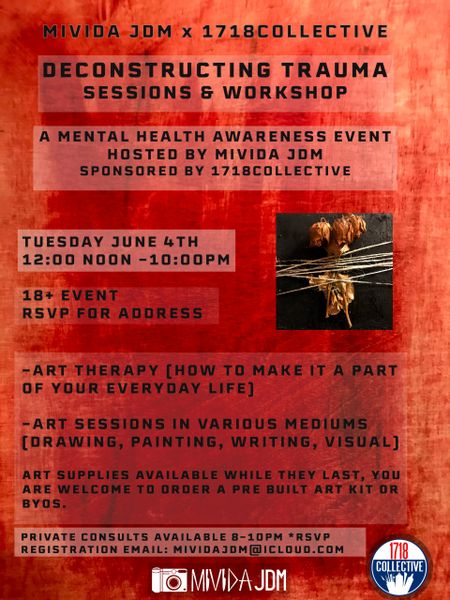 DECONSTRUCTING TRAUMA SESSIONS AND WORKSHOP
Mental Health Awareness event hosted by MiVida JDM, sponsored by 1718 COLLECTIVE 
Following her solo art exhibition "Deconstructing Trauma; Day 12,796" MiVida JDM will be holding a series of Art Therapy sessions and workshops in an effort to help people use art in their everyday life. Art can be used to better your quality of life, as well as a therapeutic or coping skill to deal with different conditions or situations. "Deconstructing Trauma" was the name she chose to exhibit her life's work stemming from traumatic, painful, various good and bad times in life that affected her with post situational things including but not limited to Depression, PTSD, Anxiety, Loss/ Coping, Narcissistic Abuse Survival, Domestic Violence Survival and more. Her outlook and resilience has been strengthened through Art and other outlets such as Music too! This particular event will focus on Mixed Mediums in ART. 
Deconstructing Trauma Sessions and Workshop on June 4th will be held in Brooklyn as an ALL DAY event from 12:00 noon to 10:00pm. 
It is FREE for all guests with a suggested donation (any donation is fine $5-$10)
AGES 18+ / younger audiences are welcome with adult supervision. 
MiVida JDM will hold discussions on the topics of Mental Health and Everyday Life, then break the day into sections to have group and private participation in various forms of art such as Drawing, Painting, Writing, and Visual Art. Providing demonstrations and encouragement we will all create together! 
TOPICS:
Mental Health
Domestic Violence
PTSD
Depression
Anxiety
Various forms of abuse
and more (that all deal with)
There will be some supplies (on a first come first serve basis), you are welcome to bring your own kits (space is limited so small items or ask for an approved list. You are also welcome to pre order a personal kit that you can use and take home)
RAFFLE giveaways of different ART related items for those who purchase a raffle ticket!!!
PRIVATE REGISTRATION for one on one Art Therapy Session / Consultations are available. (see extended list from event brite or email direct for a slot. MIVIDAJDM@ICLOUD.COM ) 
Private appointments are from 8pm-10:00pm however with flexibility there may be some additional slots in earlier part of event day. 
MIVIDA JDM wants everyone to be able to access art and art therapy for mental health awareness, this event is for anyone who loves art and or wants help in a tough area and believes they need a safe place to practice or to talk. She owns and operates an ART and MEDIA business with an additional focus on business management and consultation, so she can talk to you about making ART a living as well. 
Looking forward to meeting many of you and seeing those who have always been around as well ! <3
TEXT 347 622 9348 or EMAIL MIVIDAJDM@icloud.com with your inquiries. 
To read more about your host feel free to visit www.MiVidaJDMLLC.com (about tab)
https://mividajdmllc.com/about
To see the Solo Art Exhibition "Deconstructing Trauma; Day 12,796" please click the link here for a recap:
https://mividajdmllc.com/p/exhibitions
TO SUBMIT YOUR EXISTING ART TO MIVIDA JDM FOR CONSIDERATION IN HER UPCOMING SEMI-SOLO PLEASE SEND YOUR IMAGES AND BIO TO EMAIL: MIVIDAJDM@ICLOUD.COM
PERSONAL ART KIT INFO: 
As listed in add on section there are personal art kits available on pre order, they can be picked up at the show. no mailing. 
Upon adding this to your cart RSVP registration link for event containing address etc will be emailed to you.