Kairos.Pathos.Thanatos Limited edition print (PRE ORDER)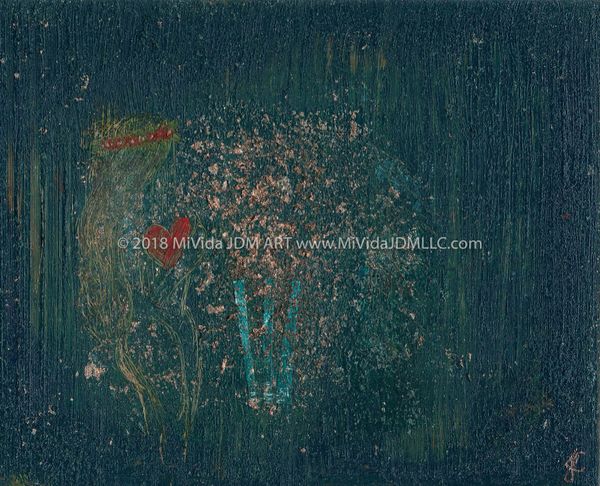 Kairos.Pathos.Thanatos Limited edition print (PRE ORDER)
"Kairos.Pathos.Thanatos." 
Art By MIVIDA JDM 
8 IN x 10 IN 
Mixed Mediums on Birch Wood Panel Canvas (Flat)
ORIGINAL PAINTING SEEN IN PHOTO• 
TO ORDER AN 8 X 10 INCH QUALITY PRINT OF THIS PAINTING, ADD THIS ITEM TO CART. 
PRINTS IN OTHER SIZES (INQUIRE WITH ARTIST PRICES VARY BASED ON SIZE, COLORS WILL SLIGHTLY DIFFER BASED ON YOUR COMPUTER SCREEN OR MONITOR)
#MiVidaJDMART 
PLEASE READ BEFORE ADDING TO CART!!!!:
YOU ARE PURCHASING AN 8X10 PRINT OF THIS PAINTING ON GERMAN ETCHING PAPER BY MIVIDA JDM, PRICE AS QUOTED ABOVE.

THIS PRICE WILL INCLUDE SHIPPING WITHIN THE US NOT TO EXCEED $15. 

SELECT "FRAME" OPTION TO REQUEST A FRAME FOR AN ADDITIONAL FEE.
FRAME DEPENDING ON ITS WEIGHT AND SIZE WILL HAVE AN ADDITIONAL SHIPPING FEE. 
FRAME COSTS MAY VARY IF YOU HAVE A CUSTOM FRAME REQUEST OR CUSTOM PRINT REQUEST FOR FRAME AND AN ADDITIONAL INVOICE MAY BE SENT TO YOU IF PRICE EXCEEDS THIS QUOTE. 
NO RETURNS***
READ TERMS AND AGREEMENTS REGARDING ART PURCHASES***
THIS IS A COLLECTORS ITEM AND IS NOT FOR MODIFICATION OR RE SALE.
AN AUTHENTICITY CERTIFICATE WILL BE MADE FOR PURCHASER.
PRE ORDER INFO:
This art will be shipped upon availability of item, confirmed requests, and confirmation of signature on art sale agreement. The art sale agreement is a document stating the intent of buying this as an art connoisseur or collectible only. This item is NOT for re distribution or re sale or alteration in any way, and any one doing so will be facing legal charges for infringement etc. 
There will be a limited amount of prints. 
At this time this is for a pre-order.  You will receive an email notification when the print is ready, and an ETA of delivery once tracking is created.
Thank You.