CUSTOM ART CONSULT - CHOOSE SIZE - FREE SHIPPING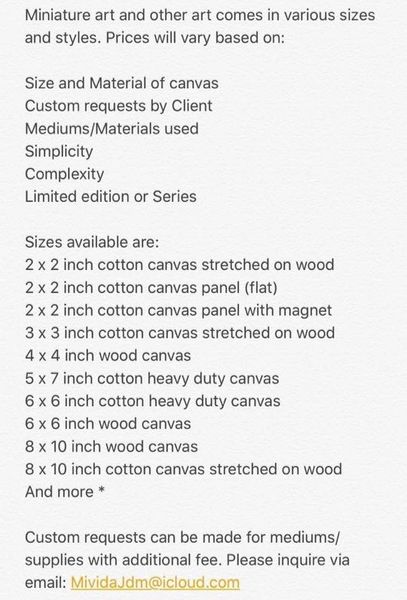 CUSTOM ART CONSULT - CHOOSE SIZE - FREE SHIPPING
CONSULTATION REQUIRED PRIOR TO BOOKING CUSTOM ART
To determine the goal for the art piece, and expectations of details and materials as well as use please contact us for a consultation. These are base prices for art pieces, the final quote will be based on consultation. 
PLEASE READ BEFORE ORDERING.

Base prices are reflecting for customized orders as they can be complex requests. MiVida JDM LLC will work with you on your request and can be flexible with budgets with respective limits to artists time and supplies needed. Please Email with any questions prior to placing order to receive the best quote for the size, type of canvas, and material you are requesting.
Custom Art requires a consultation between the artist and the buyer prior to creation so that the artist can give an accurate FINAL quote. Select this option to schedule a consultation by phone or email to place your custom request. If you already know what size and type of canvas you would like please add that in the "size and materials" drop down. The size and material list includes flat start-off fees for each size. Based on your consult you may be quoted on a separate invoice for true cost additions.
The prices listed are the minimum start prices with high quality supplies/mixed media. If the artist deems a lower price based on your consult for any reason, you will receive a refund of the difference.  If you have a coupon or a referral code to apply please mention in your order comments or during your consultation to receive the savings. 

Mediums to be used will be discussed within the consult. Mediums are in stock as well as available on demand if not in stock and will be charged accordingly. 

Based on the mediums, your expected date for completion and delivery will be estimated. 
Different mediums require different times for work and drying for the efficiency and quality of the art. 

Simplicity versus complexity also plays a role in the expected date of completion as well as the final quote.

GIFT WRAP options are available for the option of having your art wrapped with hand picked fine silk paper or custom design paper. 
EASELS are available for the smaller sized canvases that fit on the easel, as easels are 5 inches high. They are meant to hold 2 x 2, 2 x 2.7, and 3 x 3 canvases perfectly. Some are included within base price. 
All canvases are ready to be hung up on a nail, post, tack, or with double sided hanging tape (tape only works for light weight canvases).
Frequently Asked Questions, Terms and conditions can be found at appropriate tab on site. 
Again it is strongly advised to proceed with a consult when asking for a custom order!
Thank you for your business.